FAQs
FAQs – How do I know that I can trust a tutor with my child?
Unlike other tutoring agencies, all of our tutors have undergone a rigorous screening process including a fourfold safety and quality check:
Enhanced CRB/DBS check;
Character and professional references;
In-depth interview; and
Proof of qualifications.
Cardiff & Vale Tutor acts as an introductory agent and is authorised by the tutors on our books to refer clients on their behalf. Cardiff & Vale Tutors will do this by taking your completed 'Find a Tutor' form and recommending a suitable tutor. Once Cardiff & Vale Tutors has emailed you the confirmation of the tutor you have agreed to engage, a contract will come into existence between you, the tutor and Cardiff & Vale Tutors.
Where will tuition take place?
Normally in your own home or online. However, if you would prefer not to be taught at home, we will do our best to make an alternative arrangement.
How can I check the identity of a person presenting him/herself as a tutor?
Vetting
It is a requirement of representation by Cardiff & Vale Tutors that we have in our possession a copy of the certificate of an Enhanced check through the UK Disclosure and Barring Service (DBS) or national equivalent, for the relevant tutor, or a link to the online version of that certificate, before any tuition can be approved.
Any personal information disclosed as part of this process will be handled with care and sensitivity. We are not obliged to disclose any information which is not relevant to the provision of educational services.
All tutors will wear a Cardiff & Vale Tutor ID badge clearly displayed at all times. Each will have a unique tutor reference number.
How can I ensure that the tutor will provide a good service?
We have a rigorous recruitment process and have carefully selected our tutors on the basis of their ability to provide a quality service. They have had to prove their knowledge of all relevant exam boards and contemporary curricula. Furthermore, each tutor has had to clearly demonstrate exceptional communication and teaching skills as well as academic excellence. Through both background checks and in-depth interviews, all of our tutors have had to thoroughly prove themselves to us, so that we can prove ourselves to you!
How do I pay for tuition?
You pay the Tutor once the lesson has been completed. Payment is made using a Stripe Card. We are working with Tutorcruncher which is a trusted and secure site. You will be able to see all payments from your profile.
We are happy to answer any queries re cost, please email : [email protected]
Cardiff & Vale Tutors uses an online platform called Tutorcruncher to invoice parents and clients. You can add your card details into your Tutorcruncher profile and will be invoiced once the tuition lesson has taken place.
What is Tutorcruncher?
Tutorcruncher is an online platform for connecting clients with the right academic tutors. Once you have submitted a 'Find a tutor' request then Cardiff & Vale Tutors creates a 'job' on Tutorcruncher and tutors then apply. We select the tutor who is the best fit for you or your child.
Once tuition has started you can log into our Tutocruncher and view lesson reports from the CVT tutor to track your child's progress.
Payment To Cardiff & Vale Tutors
By engaging a tutor through Cardiff & Vale Tutors, we use 'split payments' to deduct our administrative fee (commission), which will be clearly stated in your invoice.
You agree not to directly or indirectly engage, or offer to engage, the tutor to provide tuition to you on any basis other than through Cadiff & Vale Tutors.
We regret to have to advise that if you breach this agreement, you agree that you shall pay Cardiff & Vale Tutors the sum of  any commission found or estimated to be due. You agree and accept that this sum represents a reasonable estimate of Cardiff & Vale Tutors' loss arising from your breach of our contract and monitoring of its potential occurrence.
Cardiff & Vale Tutors provides an introductory and administrative service, facilitating private tuition arrangements, providing its services both to the tutor and the client. These services principally consist of (but are not limited to): advertisement of tutor services and client's requirements; introductory services and administrative support.
Cardiff & Vale Tutors operates as an Employment Agency for the purposes of the Employment Agencies Act 1973.
Cardiff & Vale Tutors does not employ or otherwise contract tutors for the provision of educational services. In engaging the services of the tutor, the client enters into a private agreement with a self-employed individual.
Cardiff & Vale Tutors does not purport to enter into contracts on behalf of the tutor, nor to hold itself out as their agent. The tutor and client remain at all times responsible for the contractual relationship between them. Cardiff & Vale Tutors is under no obligation to introduce any tutors to the client, likewise as self-employed individuals the tutor is not obliged to accept any projects which may be offered. The tutor is not obliged to make their services available at any time.
We reserve the right to amend these terms as may be required, from time to time. Reasonable efforts will be made to inform both clients and tutors of any such changes, after which time any continued use of our services will be considered to constitute acceptance of these changes.
How Long Does It Take To Find a Tutor?
We are normally able to offer a suitable tutor within 2 or 3 days.
Paired or Group Lessons
We do offer lessons for more than one student. The  extra student is charged £4.50ph and parents can share this cost equally. Small group sessions of up to 3 students works well.
Can I Cancel a Lesson?
Yes, you can cancel lessons, but you must give 24 hours' notice to the tutor; otherwise you will be charged.
How Do I Log Into Tutorcruncher?
Head to www.tutorcruncher.com and click the login button in the top right-hand corner. Enter your email and your password.
How often will tuition take place?
This is largely up to you. You will be able to arrange lessons with the tutor assigned to you. Tuition is normally arranged on a weekly basis but additional lessons can be booked if necessary.
What if I can't find the subject I need on your list?
We are constantly adding to our bank of tutors so our subject list is being continually updated. Contact us with your request and we will do our very best to meet your tuition needs.
I do not live in Cardiff or the Vale of Glamorgan but would like to access the service of Cardiff & Vale Tutors – is this possible?
Yes. We offer Online tuition  and blended learning-a mixture of online and in person tuition. This  has proved extremely successful with present  clients.
What makes a good tutor?
A good tutor must have good subject-specific knowledge. It is also essential that a tutor is able to communicate this knowledge effectively through the use of advanced teaching methods. Our tutors are chosen for their competence in both of these areas.
What is the advantage of one-to-one tuition?
The main advantage of one-to-one tuition is that our tutors can adapt their teaching techniques to the specific learning style of the student. Furthermore, a tutor can work to your pace. Most students also find that one-to-one tuition builds general confidence and results are often seen more quickly.
Online or  in-person – What Are The Benefits?
Online Tuition has the benefit of flexibility in the modern day. It can be taught anywhere – all you need is a laptop or tablet, and you're ready to go. It can save on travel time and petrol costs. Tutors prepare and use many visual resources and can send these to students so they can be saved and used to support revision.
In Person Tuition allows tutors to engage students using physical materials, such as board games, science experiments and physical activity. . They can present knowledge differently than in the classroom. Our students love seeing their tutors each week. However, this service is location-dependent. Travel costs may be added.
Both methods can be used.
Will lessons be interesting?
Yes! Our tutors are aware of many different methods to stimulate interest such as interactive learning games and Internet resources, as well as using more traditional tutoring methods. This ensures that students are engaging with the subject matter at all times and therefore maximises their learning potential.
How will the lessons be structured?
Psychologists have discovered that we remember more from what we have learned at the beginning and the end of a session. The way to capitalise on this is to break a teaching session into smaller tasks. This maximises concentration and learning. Our tutors are aware of this technique and will therefore endeavour to divide each hourly lesson into 2-3 smaller chunks so that the maximum information is retained by the student.
How Do I Log Into Tutorcruncher?
Head to www.tutorcruncher.com and click the login button in the top right-hand corner. Enter your email and your password.

I Don't Have Any Login Details
Cardiff & Vale Tutors sends the log in details by email. Please check your 'spam' for this email or send [email protected] an email if you need help.
How Do I Reset My Password?
If you have forgotten your password, you can easily reset it by going to the Login Screen and selecting 'Reset Password' below the password text box. This will send you a password reset email to your default email address.
Profile Overview
When you first log into TutorCruncher, the first thing you will be able to see is your client profile and dashboard. This is where you will get a great overview of your account.
If you want to edit your account and change any details, you can click the top right-hand corner drop-down menu and select 'Account'. Here, you can view all your details and edit any details about your profile, address and any additional fields.
Where Can I View The Students Associated With My Profile?
If you would like to view the students attached to your profile, you can view these by going to the 'Student' tab in the left-hand menu. If you would like to add additional students, please get in touch with Cardiff & Vale Tutors.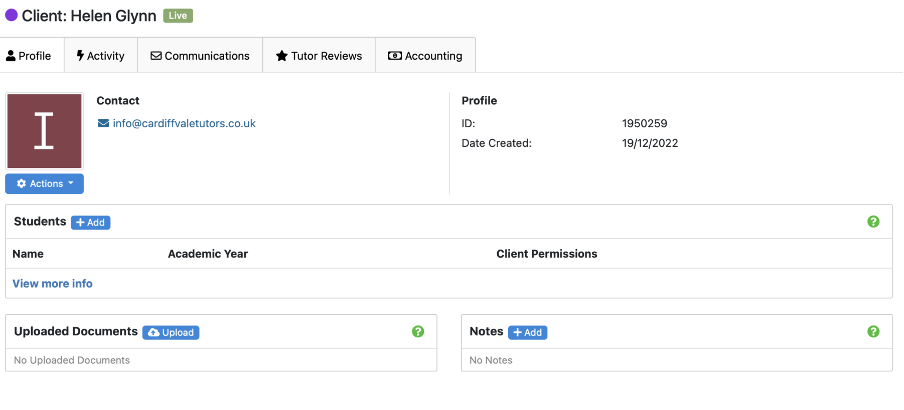 What Is The Calendar?
In the 'Calendar' tab, you can view your upcoming lessons. You can click on each of these appointments to get more information about each calendar entry. You can view a variety of information, such as the tutor holding the lesson, which of your students is involved in it and when/where the lesson will be.
Where Can I View Lesson Reports?
Navigate to the 'Reports' section of the left-hand menu. Within this section, you can view all of the reports associated with each of your students.
Understanding Accounting
The TutorCruncher system works based on two key payment methods: credit requests, which facilitate upfront payment, and invoices, which are for payments made after a lesson has already happened. You can find both Invoice and Credit Requests in the left-hand menu of your TutorCruncher account. Here you can view details about historical and outstanding invoices and pay them using the TutorCruncher payment gateways.
Clients are invoiced at the end of each month and are charged after the lesson has been marked 'complete' by the assigned Tutor using the client's card details stored on Tutorcruncher. This can be between 3-5 days
Inside The Billing Tab
Within the billing tab, clients can see everything to do with billing, charges and invoices.
Your balance history gives you the details about all the past transactions on your account, meaning you can always keep track of your finances within TutorCruncher.
In this section, you can see any invoices you need to pay. You can click on the invoice to view the bill and to pay.
This section works in a very similar way to Unpaid Invoices. The main difference is that here you can see any outstanding upfront payments. Again, you can click on any of these items to view their details and pay.
Changing My Payment Method
You can change the card you use for payment by clicking the 'Dashboard' button on the left-hand side and then clicking 'Add New Card'. You can also remove existing cards by clicking on them and pressing the 'Delete' or 'Remove' button.

Updating My Contact Information
You can update your contact information by clicking the 'Dashboard' button on the left-hand side and then finding the 'Edit' button underneath your profile picture.
Tutor Status
The tutors represented by Cardiff & Vale Tutors are self-employed individuals. They are not subject to any right of direction, supervision or control either by Cardiff & Vale Tutors or the client.
Tutors are engaged by clients for their particular skill and expertise and are expected to take full responsibility for the manner in which their services are provided. The tutor will use their discretion in determining the most appropriate teaching method depending on the student's needs.
It is the responsibility of the tutor to:
Agree upon a suitable place of work with the student, whether in person or online.
Agree upon the times, dates, frequency and length of the sessions with the student.
Determine the teaching method and approach used in any session guided by experience and industry practice.
Acceptance Of These Terms
Upon using services provided by Cardiff & Vale Tutors, the client will be considered to have accepted these Terms.
In accepting these Terms, it is understood that Cardiff & Vale Tutors can make no guarantee as to the outcome of tuition provided, in respect of grades or certification from any educational institution. The quality of the student's academic work remains their responsibility, and the role of the tutor will never be more than advisory.
Acceptance of these terms will also be understood to signify acceptance of Cardiff & Vale Tutors' Privacy Policy.
We are a Corporate member of the TTA and our full Terms of Service-can be found using this link:TTACVT-Terms-of-Service-2023